Pronouns: He/Him/His
Cory's childhood was similar to a lot of those who live in Wisconsin: growing up in a small town with a lot of people who may not accept anything other than a traditional lifestyle.
He grew up in Black River Falls, near La Crosse, WI. He said it was the kind of place that people would go for hunting or for the casino there.
Cory has one older sister by about two years, and his parents are still married.
His father was in the Navy, so their family moved around during his childhood. He was born in Texas, and for about five years, they lived in Japan before moving to Wisconsin.
His parents were very caring; they never tried to "dump" their opinions onto him and his sister, Cory said. Him and his sister knew how their parents stood on certain topics.
Though their family was relatively nuclear, Cory said, he ironically ended up being the most religious in his family before he discovered that he was bisexual.
In about seventh grade, he started to know after he got a crush on one of his closest friends.
"I realized that it wasn't a one-off thing, that I started looking at boys the same way I was looking at girls," Cory said. "At the time, I grew up with the notion that I had to be straight, because everybody else in my family was straight, all of my friends were straight, and I didn't really know what it meant to be anything other than that."
Since then, he hasn't had a preference for who he dated. He had dated only one man before, although it was quite bumpy and lasted about a year.
"He just realized he wasn't into it," Cory explained.
Other than that, he's dated mostly women.
"It's been really easy to hide. Not to say that was my intention, but it's just the way it ended up," Cory said.
One of his closest friends since elementary school, Cody, was the first person Cory ever came out to when he was in eighth grade. However, Cody's response was concerning to him.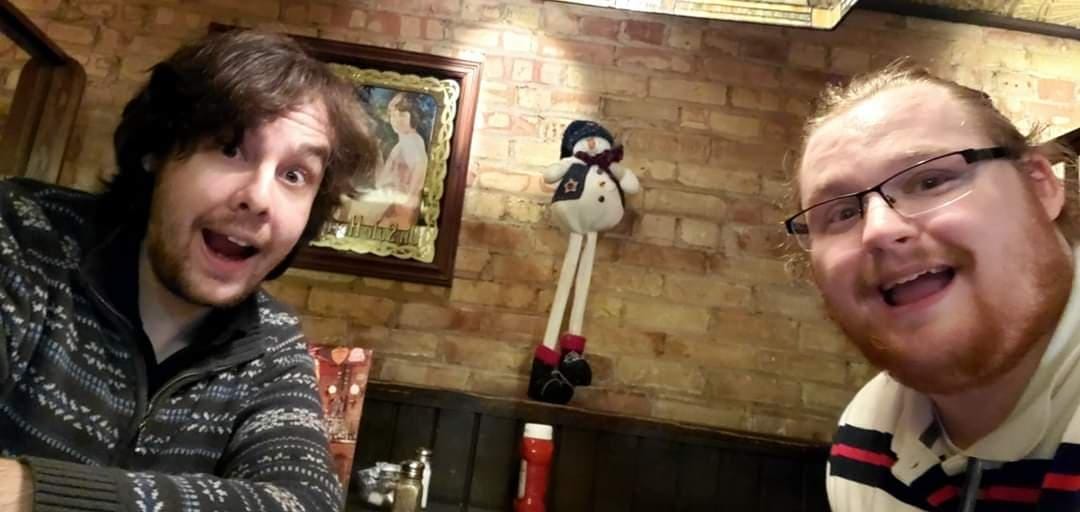 "He came from a rather traditional family as well, and he said, 'I don't like that. You're going to Hell, but I'm still your friend,'" Cory said. "At the time, I was also really religious, so I wasn't quite sure how to sort that out in my head. I think I tried to ignore that part of me, but it became harder as my feelings for this other person were growing.
"I just let it go because I knew he cared about me as a friend, and from a Christian perspective, I know that it wasn't him judging me based on disliking me as a person, but just simply judging me because he wanted me to be in Heaven with him. I knew what his intention was, but it also wasn't a great thing to hear."
Since then, Cody has been much more accepting of Cory's identity.
"To Cody's credit, he's changed a lot since he was a kid and he is far more [accepting of] me than he ever was," Cory said.
Cory is no longer religious, but he explained that it was his feeling at the time.
"I couldn't keep practicing a religion that was actively discouraging who I was fundamentally as a person," Cory said. "When I was around 16 or 17, I realized I couldn't control my own feelings and emotions, and [continuing to practice religion] would cause me nothing but pain. I think starting to realize that my religion wasn't as important to me was what allowed me to become a little more accepting of myself."
He later came out to his sophomore-year girlfriend, then became more comfortable with his identity after high school.
"I played straight for years, and my first non-straight relationship was right after high school, because that was when I finally let myself actually try something," Cory explained.
After moving to the Fox Valley, Cory was experimenting and living a life he never had before.
"It was so liberating — talking to guys in bars and being open about how I was feeling," he said. "It felt great to live a little more feely, even if I ended up choosing a woman to be my life partner."
Cory met his fiancé just a few months after moving to the Fox Valley.
"I wasn't actively discouraged from seeking other relationships when I moved here," Cory explained. "In fact, I actively pursued only guys until I met her."
Cory's sister and her husband are the only family members of his that know he's bisexual. He came out to her when he got drunk at a party she threw.
"There's a reason I haven't completely told [the rest of] my family yet; I still have a good relationship with them," he said. "I'm marrying a woman, so I don't see a reason to tell them unless something happens with her."
About two years ago, Cory came very close to coming out to his parents. It was around the time where he and his fiancé were getting serious, and he and his mother were talking one night.
"I asked, 'Do we have anybody in our family that is gay or anything else like that?' and she said, 'I don't think so.'"
He then asked his mother how she would react if they found out someone in their family was.
Her response, according to Cory, was close to, "Well, we always believe marriage should be between a man and a woman. And to be completely honest with you, Cory, we were always glad you and your sister didn't end up being gay."
"In the moment, I knew for a fact that she didn't know [I was bisexual] because she said that," Cory explained.
His reaction to what his mother said was quite mixed because she holds those nuclear, traditional beliefs.
"On one hand, I'm sure what she probably meant was it'd be difficult to rectify that with their love for their son. But at the same time, it was also hard for me not to think that they were judging me if I did come out to them," Cory said. "For a moment, I thought to myself, 'I think I can do this; I think I should do this.' But my mom said that and threw me off completely."
Despite his mother's comment, he hopes there will come a time where he is comfortable enough to tell his parents.
"If there was ever a time in my life when I thought that wouldn't ruin my relationship by telling them, I think I owe it to them to be honest because they haven't been nothing but honest and considerate to me.
"That being said, as long as I'm with [my fiancé], I don't know that I need to because it's an overly complicated and unnecessary stitch in our relationship that is entirely redundant," Cory said. "I'd like to tell them, but I have no reason to if it's going to blow up in my face."
There have also been a couple times in which people in public would judge the way Cory would flirt with other men.
"When I first moved [to the Fox Valley], I made a couple friends at my job at the time. Once or twice a month, we would go out to a couple bars."
Upon showing up to his favorite bar at the time, he saw a "really cute" man and sat next to him. After a little bit, Cory mustered up the courage to tell him he was cute, and the man replied likewise.
However, an older woman bartending that night asked if they were going to "do that" to go outside to the patio.
"I told her that we were just talking," Cory said. "I think it intimidated the guy because he left; I never even got his name."
Other than the few unnerving experiences with friends, family, and strangers, he said he's lucky to have the acceptance that he does right now.
"I've been extremely fortunate in that the only person who's ever given me any sort of pushback was initially Cody, and then my mom who doesn't know," Cory said.
But for those who are still considering coming out, can't come out to loved ones yet, or choose not to, Cory had a few things help him along the road to self-compassion and his relationships with others.
"I think distance helps a lot," Cory said. "When I knew I could keep a relationship with my family without fear of being caught or misunderstood while allowing myself the chance to live more freely, I think that was one of the best things I could've done for myself."
And if one does come out, Cory said that doing so with people they're closest to is the best first step.
"They're the people who you really need by your side if things go wrong," Cory said. "I think it's important to have people by your side; you shouldn't alienate yourself."
And it doesn't matter what gender one chooses to live their life with; "it matters more that you feel that emotional connection to who you're with than what their gender is," he said.
But more importantly, Cory said that you owe it to yourself before anybody else.
"I think the most important thing is making sure that you live for yourself first," he said. "And if that means you have to distance yourself from your family, then do it. If that means you need to make new friends, then do it.
"You have a duty to yourself, and maybe that's a little selfish. But it doesn't matter where you came from — what class, what privilege — you always have a right to be happy and to live for yourself."
---
At Cory's request for his privacy, if you know him, please do not tag him in any posts in association with this article.
Editor's note: This article was originally posted January 5, 2021.